Company History
Beginning as a salesman, Elliott Frank worked for his uncle, the owner of New
York Air Valve Company (NYAVCO), a manufacturer of steam air vents founded in 1898. After working himself up to General Manager, he decided to branch out on his own and formed a new company. Flair Manufacturing Corporation was founded in 1953 by some friends; Elliott Frank was chairman and President and ran the company. Edgar Lehman was Executive Vice President and invested in the company, taking a more "behind the scenes" role. The company was located in 3,000 square feet of space in the basement of a Brooklyn warehouse on Atlantic Avenue. The original company direction was to manufacture and sell air valves for one pipe steam heating systems (steam air valves or vents). The name FLAIR was derived from F for Frank, L for Lehman, and AIR for air valves.

In 1954, Flair moved upstairs to the first floor. Gradually, the product line was enlarged both by manufacturing new products such as diaphragm type expansion tanks, purgers, manual vent valves,
and other heating accessories. At that time Flair's sales force of company salesmen expanded into New England and the Mid-Atlantic States.
In 1955, Flair become the distributor of Econo Zone Valves (a division of Viking Instruments) under the Flair model designation "VJ" valves. Viking was the original inventor of the zone valve.
By 1957, Flair became unionized by the retail clerks union. While this seems odd, the union had previously unionized the industry's
plumbing and heating wholesalers. To make things even stranger, that union later merged with the meat packer's union.
In 1962, Flair introduced its line of automatic vents.
Flair's sales of Econo Zone Valves exceeded fifty percent of Econo's production, reflecting Flair's success of pioneering this new concept in building design. In 1963 an agreement was reached between Flair and Viking Instruments, located in Connecticut, whereby the Econo Zone Valve Division was sold to Flair, and the Flair Zone-A-Trol product line was born. The use of this product was limited to low voltage zoning of hot water heating systems. With the help of the Small Business Administration, Flair built a new factory in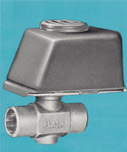 Hauppauge, Long Island and moved both its Brooklyn and Connecticut operations to the new plant. This was a brand new 30,000 square foot modern facility located on 12 acres in what would become the nation's second largest industrial park. At the same time an engineering department was established.
In 1964, sales expanded to the west coast and Europe through a network of independent sales agents. Flair was well on its way to becoming the worlds leader in Zone Valve sales.
By 1965, a Canadian subsidiary had been established in Toronto. This included a sales office, warehouse and production facility.
Over the years the company built a network of twenty five sales agencies throughout the U.S. providing sales to over 2,000 wholesale distributors.
Flair's original "Wings" Logo underwent many changes over the years. This is an example
of one of the more modern versions. Other older versions may be seen on some of the older product photos.
In 1965 Flair expanded the building by doubling its office space, adding a data processing facility. It also acquired Elliott Frank's former employer, the New York Air Valve Company. NYAVCO manufactured an extensive line of steam air vents, thermometers, pressure and vacuum gauges, water gauges, pop safety valves, and many other hydronic and steam accessories. At that time Elliott Frank was quoted in the newspapers as saying "I first entered the industry as a salesman, and later served as General Manager, of New York Air Valve. Obviously the purchase of this old and respected firm gives me a great deal of personal satisfaction as well as increasing the strength and scope of the Flair organization". The Purge and Balancing Valve was also introduced that year; years later followed by the Super Purge and Balancing Valve.
By 1967 Flair had 100 employees.
Flair subsequently acquired Amptherm in 1968, a manufacturer of electric baseboard and in-wall electric heating panels, and moved the operation to its plant in Hauppauge, NY. 1968 brought the introduction of the automatic float vent.
Flair introduced the "Flairweather" through-the-wall heating and air-conditioning line of products in 1968. To promote that product and others, Flair introduced a new unique
mobile showroom. This showroom was a 36 foot recreational vehicle featuring a self contained heating and air conditioning system. A small refrigerator inside was made up to look like a boiler and Flair's products were installed on the top. The wallpaper inside was made of blueprints of Flair's products. The vehicle was specifically designed to demonstrate Flair's products in a simulated and isolated environment that would take buyers out of their offices so they could devote their full attention to the sales presentation being made. Staffed by Flair's sales force, the mobile showroom travelled throughout the United States and Canada.
In 1969, Elliott Frank was voted "Business Man of the Year" for New York State by the Small Business Administration. He was lauded for the growth of the company in the heating and air conditioning industry and for his personal contribution to society as an outstanding citizen. Elliott Frank died in 1970.
Elliott's widow, Rita Frank (subsequently Paleschuck), a Physicist by training and PhD
candidate, assumed control and led the company into energy conservation products. The 1970s saw huge growth within the U.S. and Canada through the development of the Stack Pack product line of automatic vent and flue dampers.
The worlds smallest zone valve, the "VL Series" heat motor zone valve was introduced in 1971. This innovative new product featured a removable actuator that could be replaced without draining the system and was often sold in pairs with Flair's new miniature thermostat, together called the "Flair Pair".
The company introduced the isolation valve in 1972. In 1973 at the request of its Japanese agent (who ironically never bought any), Flair developed the first electric Vent Damper and called it the Stack Pack. Because Flair was located in the Northeast— "Oil territory" the first model was developed for use on an Oil fired boiler or furnace. The company went on to develop the largest, most complete line of Vent and Flue dampers and became the world leader. Originally concentrating on the OEM market, at one time Flair outsold all of its 20 or so competitors combined (most of them dropped out of the business within the next two years). In fact, Flair had among its customers (on an exclusive basis) 49 of the top 50 OEM boiler and furnace manufactures. Subsequently, it concentrated on and later dominated the water heater and wholesale markets as well.
Flair changed to the "House" logo because now that the Stack Pack had become so
important, the majority of its products were used in residential housing and it wanted a fresh new look.
The thermostatic radiator valve also known as the Thermostatic Limit Control had been widely used in Europe for many years. Flair imported a portion of this product and mated it to components it manufactured in order to accommodate American requirements not formerly being served. Early in his career at Flair, while still in school, Jamie Frank, the son of the founder designed and received a patent for a version of this valve that for the first time in over one hundred years of uncontrolled steam (over) heating, thermostatically controlled one pipe steam radiators.
In 1974 there was a call for a new generation of zone valves. The Superior Zone Valve was developed with world wide applications in mind, particularly air conditioning, higher voltage and other specialized applications. This product continued to be the foundation of the company's overseas sales and the company became the third
largest producer in the world. The product line was enhanced and expanded constantly and became the most varied available from any manufacturer. In addition, the product developed a reputation of being the finest quality without regard to price.
In 1975 energy conservation flourished under President Carter. Flair expanded the Stack Pack product line to include gas fired appliances, which made up approximately 90% of the domestic market.
Flair introduced the Fuel Miser, an inexpensive product that converted a conventional thermostat to a clock thermostat. This was sold in large volumes to retail chains
including Sears, Jordan Marsh, Ace Hardware, True Value and JC Pennys, all of whom advertised in local newspapers using Flair's first cooperative advertising program.
By 1977 Flair exceeds five million in annual sales. A European sales office was established in Holland.
In 1978 the Arab oil embargo forced an entirely new energy conservation awareness and demand for Flair's energy efficient products. Production rose significantly and backlogs increased exponentially. This required an expansion of the facilities; an addition was constructed adding factory and warehouse space which more than doubled the size of the plant to 80,000 square feet.
Data processing machines were replaced with the IBM System 32, 34 and later 36 computer systems, along with terminals and printers throughout the building.
By 1979 Flairs annual sales exceed ten million dollars, and profits exceeded one million dollars per year. By October, 1979 monthly sales exceeded one million dollars. Employment reached 150.
In 1980 CAD (Computer Aided Design) was utilized for engineering drawings. From that point on all new products were developed using CAD.
The thermal Stack Pack (Series ST46) was introduced as Flair's first non electric vent damper, primarily used for water heaters that had no source of electrical power.
After working at Flair part time and summers throughout high school and college,
Jamie Frank joined Flair full time in 1981 as its General Counsel. He then became Vice President, responsible for all human resource, payroll, accounts receivable, accounts payable, data processing, and auditing functions. He subsequently became Treasurer and CFO.
In 1984, under Jamie Frank's leadership, an energy management company, Emsco, was purchased and integrated as a new Flair division. The Emsco product line was a sophisticated energy management system designed for the lodging industry based on a computerized room controller. It had applications and sales potential throughout the world. The Emsco "CRC" could sense the presence of people in a room and automatically set the heating, air conditioning and lighting to comfort levels. When the space was unoccupied, the room automatically was set to energy saving settings, typically saving more than 50% of the energy previously consumed without any degradation of comfort. To accommodate production of this new electronic product, Flair added printed circuit board and wave soldering capability to its production facility.
Jamie Frank later became VP and general manager of Flair Canada.
Reflecting its international nature, the company name was changed from Flair Manufacturing Corporation to Flair International Corporation. At the same time Flair Associates was formed to manage all company owned real estate assets. In 1987, Jamie Frank became President and CEO.
In 1988, Jamie Frank purchased the company from family members and was appointed Chairman. Under his leadership the company maintained a policy to grow
through the continuous improvement of its existing product lines and an aggressive development program of new innovative products sold through Original Equipment Manufactures, overseas agents and its ever larger network of sales representatives and wholesalers in the US and Canada. A new logo was introduced reflecting the company's international focus.
In a strong effort to sell products into Asia and Europe an additional twenty-five international sales agencies were added, as was a regional sales office in England. Export sales grew at a significant rate and eventually climbed to more than fifty percent of total sales.
In 1991, by seeking to make the best product on the market even better, the "SL"
product line of Vent and Flue dampers was introduced. These dampers utilized a much lighter weight die cast aluminum casting and a pc board. A component structure was used to facilitate faster manufacturing and nearly eliminate lead times. Many new variations were conceived to meet customer's specialized needs.
In 1994 and 1995 Flair obtained over five hundred thousand dollars in grants from the New York State Research and Development Authority to develop new innovative energy saving products. For further information on some of these products see the tab entitled Product Development.
1995 brought the introduction of the first two Star series Zone Valves. These two new zone valves bridged the span from Superior to Star, and opened the door for a tremendous expansion of the Zone Valve and Damper Actuator lines of products which could be sold into many new markets.
In 1996 Flair manufactured a new concept zone valve, the completely electronic, high torque, high flow zone valve, the Star Lumina valve. Unlike prior Superior models this valve was powered open and closed and did not utilize a spring.
1996 brought the installation of the AS/400 Advanced System 36 for data processing and many terminals and additional PCs for distributed processing.
Flair Products Company was formed for the purpose of direct marketing a large inventory of some of the products manufactured by Flair International to the retail public and select wholesalers. That company continues to sell those products today. See Product Offerings.